For the first time since July 2006, there are fewer than 1,000 properties for sale in Orleans Parish. As a result, the amount of time it takes to sell a home tied the record of 18 days, set this past October.
By now, you can guess what that meant for prices: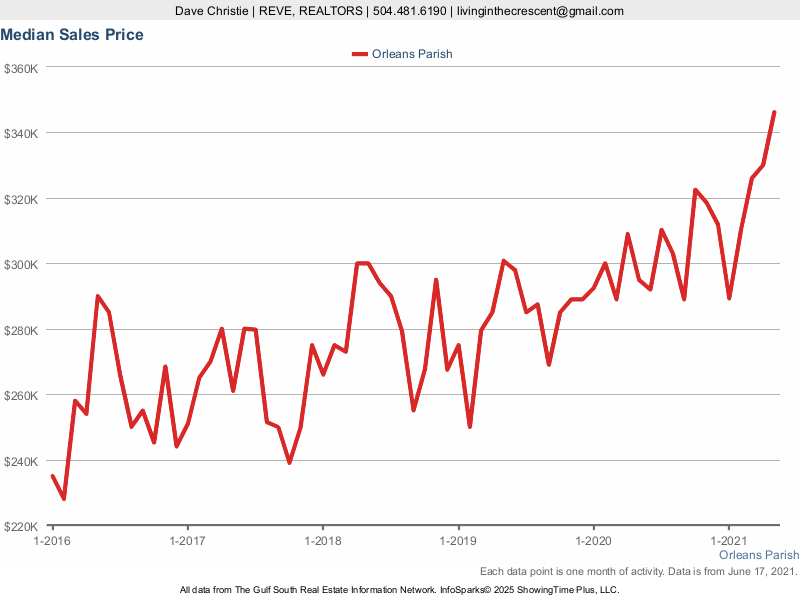 Prices have been on a pretty good run since January, but some of that is a seasonal spring run. Traditionally, prices start cooling off when the temperatures heat up. I'll be watching the June stats closely to see if we start breaking some patterns. It sure feels like we might, because we're still seeing a lot of demand.
The other thing that bears watching now is how mortgage rates will react to the inflation that's ramping up in our economy. Our lack of homes for sale here in New Orleans has been a result of historically low interest rates creating insatiable demand. The number of new listings hitting the market has been only slightly lower than previous years. It's the demand from buyers that's been eating up our inventory. Higher interest rates will reduce that demand, and the consensus is that's what we're going to see.
The good news is that consensus also forecasts a relatively small increase. Rates with good credit now are below 3%. I'm seeing expectations of 3.5% by the end of the year. That would mean your monthly payment would go up around $40 for every $100,000 worth of mortgage. That's not seismic, but it's enough to take some buyers — particularly first-time buyers — out of the market.