You know the feeling. Things are going well for a while — maybe longer than you expected. It's all good, but a part of you is getting nervous. "How long is this gonna last? When's the other shoe going to drop?" (If you've ever wondered where that phrase comes from, stay tuned.)
I know a lot of you are thinking that when it comes to our real estate market. Locally, median prices have risen every month so far this year. Prices are up 17% over this time last year. This can't go on forever, right? First-time buyers say they're going to wait for prices to fall before they start looking seriously. Because, at some point, this bubble has to burst.
No, it doesn't, because this isn't a bubble. Real estate bubbles need one thing to inflate — inventory. When prices and inventory go up at the same time, that makes a market vulnerable. If a significant economic downturn develops, like it did during the Great Recession, the demand turns off suddenly. That leaves a lot of housing inventory on the market with few people who can afford to buy, and prices go down.
The supply of homes for sale in Metro New Orleans has never been lower. "Months of inventory" shows us how long it would take for every single property on the market to sell if no new listings were added. It's a good stat because it takes both supply and demand into account.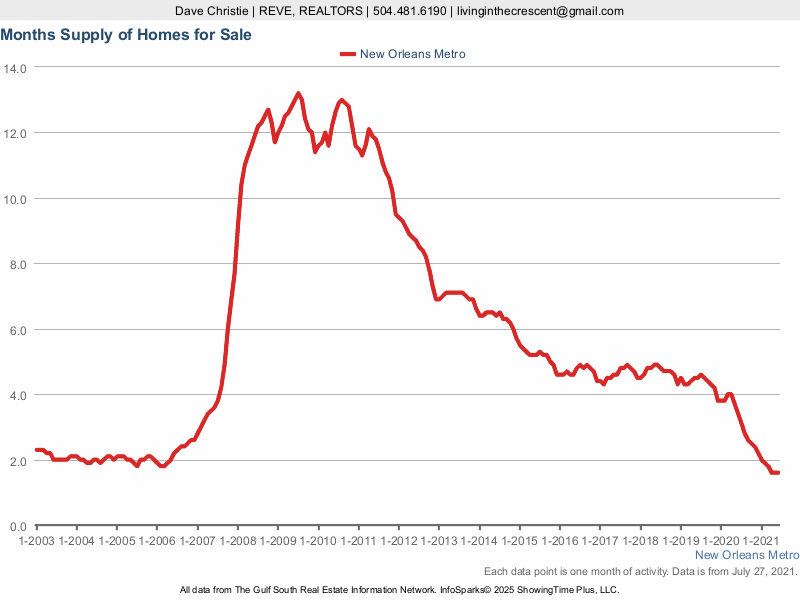 In June we had 1.6 months worth of homes on the market. At its height in the Great Recession, the number was 13.2 months. We are so far away from having enough inventory to create a balanced market (6 months), that going all the way to a buyer's market where prices drop is unlikely anytime soon. There isn't a bubble here to pop.
("Waiting for the other shoe to drop," originated around the turn of the 20th century. Tenements were being built in large cities with little concern for sound insulation. When your upstairs neighbor came home from work and changed clothes, you could hear the first shoe hit the floor. Apparently it was quite loud, especially if it was a construction boot. The second thud was coming, but you didn't know when. Thus, you were waiting for the other shoe to drop.)