Home prices in New Orleans decided a five month bender was enough. The median price of a home in Orleans Parish had increased 24% from February through June. That's not healthy or sustainable. As if to prove that point, July's median price fell 8%.
No, this does not mean buyers can start throwing low-ball offers out there and expect one to stick. It's still very much a seller's market, without enough inventory to meet demand. What's cool about this, though, is how the New Orleans market tends to hit the pause button when things heat up too quickly.
Taking a look at a bigger picture, with a rolling 12-month average that makes it easier to spot trends, I can see pattern that could be repeating itself: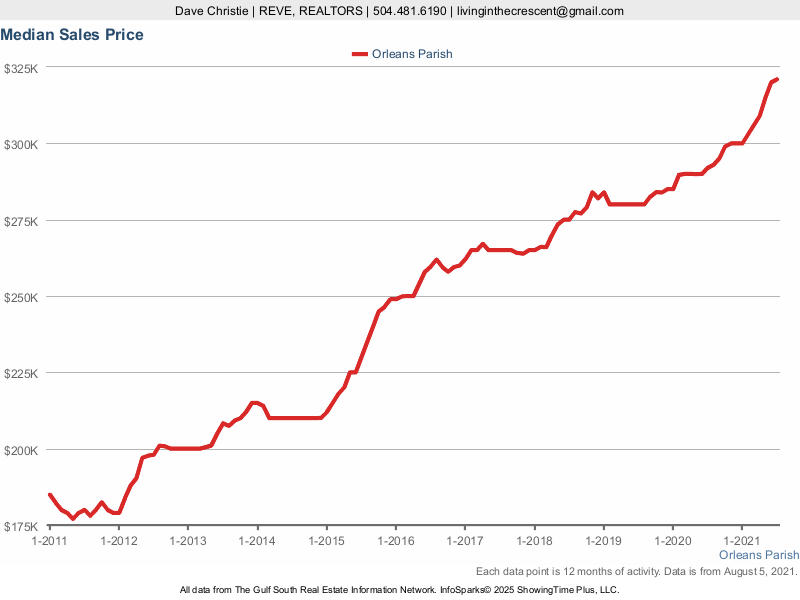 You can see our prices have stepped up in the last ten years. The height of the steps is erratic, but it's easy to spot the price increases, followed by the market pausing to catch its breath. The run prices have been on since June of 2020 resembles the one that started in December 2014. (Actually, our prices are increasing a little slower than they did back then.)
That market trend lasted about two and a half years. In April 2017, it ran out of gas and prices stayed mostly flat for a year. If that pattern repeats in our current market, we'd see prices increase steadily until October of next year, before they flatten out for a year or so. This is conjecture, but that's a pretty realistic expectation, considering that's around the time experts expect mortgage rates to start increasing.
One thing you don't see in the past ten years is a big price drop. As I mentioned in my last post, there isn't a bubble to burst, so buyers shouldn't be waiting for one.