The buyers came back to our real estate market in a big way last month. The number of pending sales in Orleans Parish had been in a steady decline since April, and bottomed out post-Ida in September. Buyers brushed themselves off, signed a lot of contracts in October, and sent pending sales back up a ridiculous 234%.
The number of new listings hitting the market in October rebounded as well, but not nearly enough to handle the increased demand. That leaves us with a critical lack of homes for sale. I'm not exaggerating. This is nuts.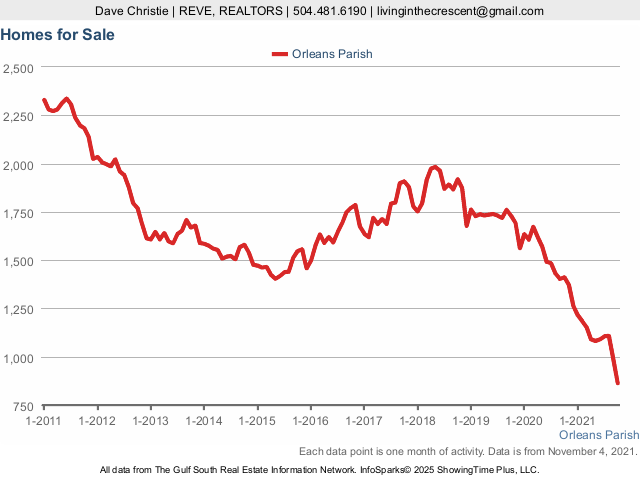 We had a run of about 8 1/2 years where there were between 1,500 and 2,000 homes for sale in Orleans Parish, more or less. We ended up October with 863. That's less than half of what we had for sale only two years ago.
Damage from Hurricane Ida plays an obvious role in the lack of inventory. Repairs are still being made, and the homes that were taken off the market will eventually go back on. But when? Thanksgiving is only three weeks away. If history is any indication, most sellers will wait until after the holidays to sell. Hopefully, the inventory free-fall can somehow level out in the last two months of the year, and set us up for a rebound in early 2022.
In the meantime, if you're considering selling your home, and you're willing to put up with all the entails during the holidays, it would be tough to imagine a better time to put your house on the market.