I'm sure this has never happened to you, but you know how some people go through a prolonged period of excess, until they've finally had enough? They were eating and drinking with enthusiastic gusto, but the party needs to wind down at some point, right? Otherwise, people might start talking, and Mom might call and say, "David, your voice sounds hoarse. Are you partying a lot?" (This is purely hypothetical, of course.) So they reign it in a bit, start getting more rest, and that healthy glow returns to their faces.
Well, "The Great Real Estate Bender" of 2020-2022 is over. It was a blast. "No regrets," "YOLO!" and all that stuff. But the market's heading back to the gym, eating some more salads and weaning itself off ibuprofen. It's a healthy shift in behavior.
Here are two images that show the whole story. The first is the Chicken Little, create-panic-for-clickbait graphic: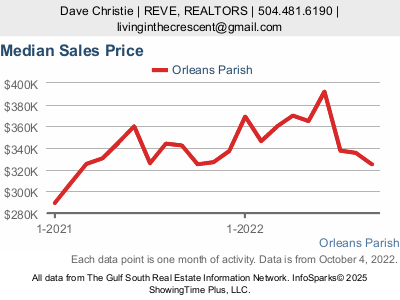 The median price for a home in Orleans Parish dropped for the third month in a row. It's now 17% lower than it was in June, which happened to be an all-time high. You might think a bubble is bursting. It's a buyer's market. The market is in a free-fall. Ummmmm, no.
Context, and a wider view of things, tend to be good ideas in life as a whole. Real estate is no different.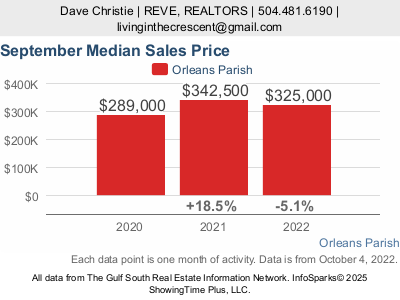 September's median price does represent a drop of 5.1% from last year. However, it's a 12.4% increase over September 2020. That averages out to 6.2% annual appreciation over two years. And that, my friends, is chia-seed-hemp-heart-berry-smoothie healthy.
Another sign of a healthy market is homes are on the market a bit longer than they were. Was it fun if you were a seller back in May and it took 9 days to get your home under contract? Sure, but it felt like a root canal for buyers. In September, the median days on market was 30. That's a big jump, but it's still lower than the 38 days we were averaging before the pandemic.
While inventory is still lower than what we'd see in a balanced market. we're in much better shape than we were when the lights went on and we were asked to leave during "The Great Real Estate Bender".