The New Orleans real estate market ended 2022 with a "meh," but the what's happening is fascinating.
I've always marveled at the way real estate markets react to their tantrums, whether they be positive or negative. When mortgage rates plummeted in 2020, buyers went plum loco and prices soared. Everyone knew it was unsustainable, including the market.
Take a look at this chart of rolling 12-month median home prices in Orleans Parish.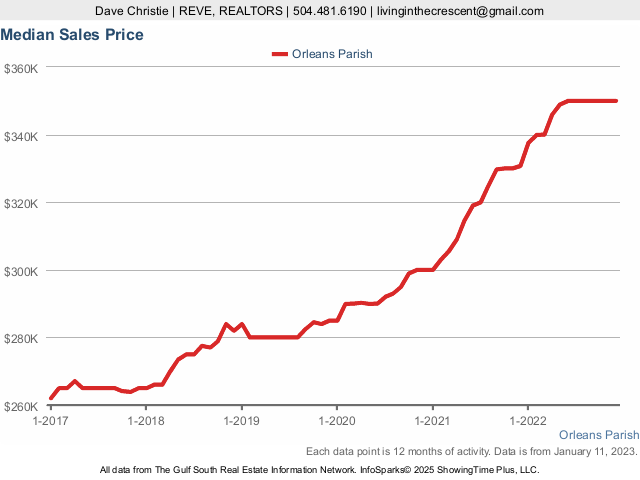 Prices have stayed absolutely flat for six months. The market had enough of the COVID-era shenanigans and slammed on the brakes, which is good for all of us. I don't expect that to trend to change much in the next three months, at least.
Another sign of a balancing market is how long it takes to sell a home. In 2021, competition among buyers was intense. Now things are normalizing.
Historically, properties in the city have typically taken around 40 days to get under contract. While we're in a more balanced market now, the stats say it still favors the sellers slightly. Barring an unforeseen economic event, we should be in this pattern for a while. If you're waiting for prices to fall and expecting prices to plunge, there are no signs of any market pressures to create such a collapse.